Assyrians/Chaldeans/Syriacs and others peacefully protested in downtown Chicago on March 13. First gathering at the Kluczynski Federal Building, hundreds then marched over a mile to chant slogans at the Turkish consulate.
Men and women, young and old, walked to raise awareness of the events unfolding in the Levant. Protestors were guided by Chicago police, stopping traffic. Participants walked for the Assyrian/Chaldean/Syriac people and other minorities in Iraq and Syria experiencing hardships at the hands of the Islamic State, also known as ISIS.
"We need funding for our militia established there, called the Nineveh Plains Protection Unit. We have 4,000 registered soldiers, probably more, but not enough funding [exists] to arm more than 700 of them. These are the people we need to help. [So they can] bring our people home and protect our own land," said Tony Benjamin, a Chicagoan who was born in Beirut.
Benjamin's family, like many in attendance, witnessed genocide in 1915 under the Ottoman Empire. "My family was forced to flee Syria 100 years ago exactly. It's been 100 years and we're having the same thing happen once again," he said.
Dennis Jung, outreach coordinator for Illinois Gov. Bruce Rauner, spoke at the protest. He expressed the governor's regret for not being able to attend.
"The atrocities being committed in the Middle East are tragic, deplorable, and have no place in the modern world. The governor stands in solidarity with the Assyrian community of Illinois and will continue to work with our leaders in Congress to advocate for the Assyrian people," Jung said.
The Islamic State in Syria's Khabour region captured Mimi Odicho's 28-year-old sister and her sister's three children. Odicho spoke to the crowd at the rally.
"How could [my sister] sleep when there are monsters watching her kids? We don't know if [ISIS] will marry them, rape them, or do anything with them. The 11-year-old can be sold easily and cheap. I want action. I want my sister back! I don't want your tears. I don't want your sympathy," she said.
Artists KSRA and Inktipped performed a song called "Cuneiform Graffiti." It was written collaboratively as the two artists tried to make sense of their identity and the events occurring in the Middle East.
"Note by note we chose it, and the words just came naturally because this is something we've both been struggling with, identifying as Assyrian and not wanting the name to disappear. How could we do that? Let us reiterate, let us use repetition, and let us say it loud and proud and not change it to 'minority Christians.' Say it. Say you're Assyrian. That's what you are, right? There's many other minorities that are also suffering, we fight for their cause too, but we are Assyrian, personally speaking," Diana Odisho said, also known by her stage name Inktipped.
The pair plans to release a music video in the future.
"I feel like we need action and not just talking. I think we need political action. I think we need political leaders to step in. We need to lobby and organize," Odisho said. "We have the might, we have the people who can unite and unify each other and it just needs to be a constant thing, not just once a year, twice a year. I'm really hopeful; I really hate what's going on there."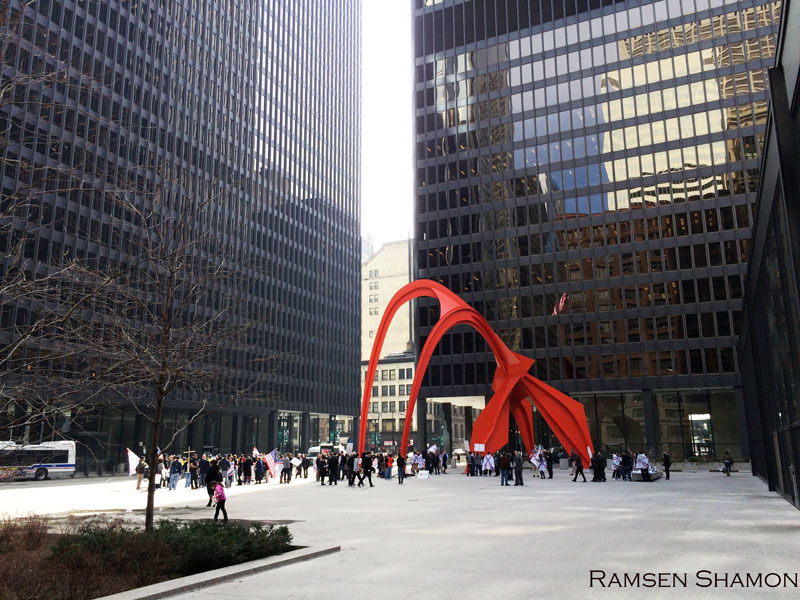 Pictures from Chicago's Assyria Revival Rally on March 13, 2015.